My apologies to any readers who've tried to access my website this past month. I recently noticed the "Website Suspended" page and feared the site had been highjacked! Thankfully, it was all my own fault. LOL. Happy to be back online now.
     I'm also thankful for your interest in my books! Feel free to email me with questions, sign up for my newsletter, and/or befriend me on social media. Facebook  Twitter  Instagram All of my titles are also available in audio format (I've become an audio addict!) Hear samples: Becky Barker
Take care and keep reading/listening
Hugs, Becky
My latest release, WESTERN DREAMS
Western Dreams is a sexy, humorous western romance. It has a lighter, family oriented theme but with lots of steam between Reece and Bree! The official release date is February 26, 2021. After that date, you can read an excerpt at online bookstores.  As always, happy reading!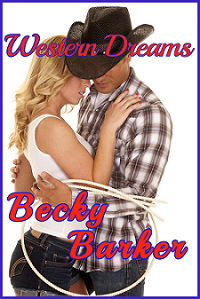 Bree Conley is back at the Blackstone ranch and Reece Blackstone is at the end of his rope. Maybe he loved her once but that's in the past, and now she's a total distraction. How can he get any work done when Bree's so beautiful, so sassy and so tempting?
Bree has no intention of rekindling their romance. She has new dreams to fulfill, which includes turning the neighboring ranch into a wildlife sanctuary. Maybe, if he's lucky, she'll take Reece for a walk on the wild side…
Purchase links:  Amz/Kindle  B&N/Nook   Apple/iTunes
5* at Amazon: "Seldom does a book the caliber of this read come along, and I fell totally in love with it. A second chance romance that grabs your heart and refuses let go until the last word is read, and then you can only hope the author writes a sequel because you just cannot get enough of Reese, Bree, and the Blackstone family. The electricity between Reece and Bree arcs so high at times I was worried it would stop my heart. Delightful from beginning to end, filled with love, laughter and family."
DEEPER THAN LOVE.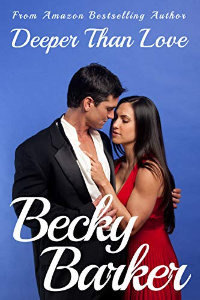 Billionaire in Pursuit…
After being framed for embezzlement, Ciara Jayne Moore fled her executive position as well as her lover, Wyatt Marcum, to start a new life in southern California. There she manages an elegant, but aging seaside resort. The only thing she wants now is to put the past and man out of her mind. He'd let her down when she badly needed his support, and she didn't think she'd ever trust him again.
Ciara's disappearance from Marcum International's Manhattan office had CEO Wyatt Marcum and his security staff scrambling. Despite their considerable resources, it took five months to track her. Wyatt had his private jet in the air less that six hours later. He needed to explain his actions and trap the people who'd stolen from him. But first he had to break through the indifferent attitude she wore like armor.                                                                                                                           Read an Excerpt.   Purchase links:    Kindle   Nook   Apple/iTunes   Kobo
Some early reviews:
"This book grabbed me from the very first line. Fast paced and tightly woven, the emotional journey with Ciara and Wyatt is riveting. Becky Barker set the bar high and then she exceeded it. I am just in love with this book." Sue B
"These two complex characters have created layers of emotional protection to guard their hearts. Will Wyatt be able to expose his vulnerable side? Will Ciara allow him back into her life so they can have their HEA? Or, will the accusations of the embezzlement always hinder their future?" Yvonne
UNDERCOVER LOVE (Rewritten, retitled and reissued)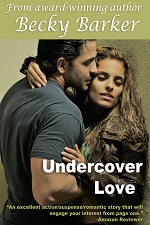 Retired FBI agent Kyle Tremont reluctantly agreed to one last job as a favor to his former boss. His mission was to extract an agent by the code name 'Phantom' from a deep undercover assignment. And the plan went smoothly until their identities were compromised. On the run with a sexy, yet mysteriously innocent operative, he found her more intriguing by the minute. Which meant the sooner he delivered her to safety and made his way home to Texas, the better! Phantom, aka Rianna Sullivan, had trained for years to bring down the man who'd destroyed her family, but nothing had prepared her for the impact of working with an FBI legend. The bond of trust they forged was fierce, the attraction between them even fiercer, but what they shared had to be temporary. As they fought side by side for justice, she wondered what it would be like to keep him longer…
I'm happy to announce that UNDERCOVER LOVE is now available at Audible.com in audiobook format! Email me for complimentary codes.
Reviews for UNDERCOVER VIRGIN (Now UNDERCOVER LOVE)
"An Excellent Action/Suspense/Romantic story that will engage your interest from page one…huntress (Robyn U.) "The electric attraction between these two is sizzling. I would recommend this book to anyone who likes Action and suspense and there is quite a bit of healthy lust between these two. They were made for each other."
"A Spicy Romance! M. Hartman "Former FBI agent Kyle Tremont was a bit of a Legend…Excellent read…Definitely Recommend –Great action and pace"
"Excellent book, Amazon customer: "There was never a lack of action in this book. Just when they think they got away they find out they're not in the clear yet. Kyle is an incredible protector, but Rianna is very strong herself. She doesn't let anyone push her around."
Zack's Ranch, Bridleton #3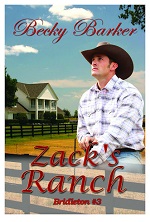 Zack's Ranch has some great 5 Star reviews at Amazon! It's the third and final book in my BRIDLETON series and is available now at most online bookstores. You can read the opening scene here: Excerpt It's also available in audio book format.
"I can honestly say I would have given it more than the 5 stars." Caroline L
"I loved this book. Great characters, interesting plot and the pages kept turning until the end." DCRC
"I not only like this book well enough to add it to my re-read list, but I plan to purchase the first two books in the series. I especially liked the way the ending was handled." Frostfire
"Loved it! What a great love story!!! It has the perfect amount of everything.." TimeToRead   Buy at Amazon            
Chey's Cowboy, Bridleton #2
Trace Mitchem is the foreman at Bridleton and a confirmed bachelor whose main goal in life is to build a ranch he can call his own. Cheyenne Bartell is the youngest heir to the Texas ranching dynasty. What she lacks in self-confidence, she makes up for in spirit and determination. Trace and Chey have known each other for years and worked side by side to save Bridleton. He prefers to keep a safe distance between them. She wants to explore the smoldering attraction they share. It's a standoff until an unexpected accident changes everything. Suddenly, Chey is the wary one, and Trace is demanding so much more. Until something happens that changes everything again.
Purchase links:   Kindle   Nook   Kobo   Smashwords    Print Edition
5 star review – "Let me start and say, I am a HUGE Becky Barker fan. I came across her a few years ago and she became a huge obsession. I devoured her back list in a very short time. So when she has a new release it is like Christmas to me. I jumped at the chance to review Chey's Cowboy and I absolutely loved it." Rhayne, GuiltyPleasuresBookReviews
"CHEY'S COWBOY is a fast paced read that captures the imagination, engages the senses and even provides a little life lesson. Chey and Trace are wonderful characters who are dealing with their own personal demons and fears while trying to build a relationship… you get caught up in the story and don't make a move until you've read every last word." Chrissy Dionne (courtesy of Romance Junkies)
STOWAWAY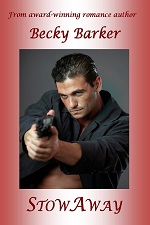 "He's handsome, hot, hunted and hurt…a plea for help from this undercover detective is one her nurse's heart can't refuse."
I'm thrilled that  STOWAWAY has finaled in 3 national readers' contests! I've redesigned the cover, made it available in print and digital format with the audio book in production.
To read a description and excerpt:  Kindle  Nook  Apple/iTunes  Audio  Print 
Garnering 5 Star Reviews at Amazon.
From Rayne at GPBR: "I have been a fan of Becky Barker's for a long time. I love the way she writes. She has a way to make you feel as you are part of the story and keeps you hanging on until the very last word. I loved this book and highly recommend it."
—Library Journal Reviews on Stowaway "…the well-developed plot and characters will keep readers turning the pages."
"Stowaway is a fast paced story filled with romance and intrigue. I really enjoyed these two characters and watching as they moved from wary adversaries to partners. The suspense built throughout the story with surprising twists and turns," Kathy – Kathy's Review Corner.com
5 stars – "Overall I was pretty impressed with Stowaway. A tight, well-written romantic suspense that I really enjoyed." Jill at Goodreads

Click Nick's photo to see a video trailer on YouTube
Andrea's Homecoming, Bridleton #1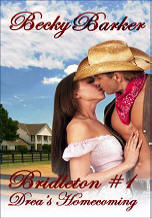 "I enjoyed Bridleton by Becky Barker very much. She has away of writing that held my interest from the first words through to the last…I am always looking for new authors and she is one of the best I've read in a while… I would definitely recommend this book. I considered it to be a great read…" Countrygirl88 at Night Owl Reviews
"This story has all the elements of a wonderful romantic story. The ranch house with its swimming pool, the barns, the horses, the beautiful scenery all add to the romantic setting. The story is well written with many romantic and imaginative scenes. It was great and I stayed up well past my bedtime because I just HAD to finish it before I went to sleep." — RomanceReview at Seriously Reviewed
Andrea Bartell is an international model whose jet-set lifestyle has kept her from her Texas home for five years. Noah Courtland is the man she left behind after a bitter breakup. He's in charge of her beloved Bridleton and it's at the root of their emotional warfare. Neither wants to rekindle the flames of their relationship yet the desire hasn't diminished. It burns hotly, forcing them to deal with their pain and heartache. The unveiling of old promises and secrets might save their relationship or it could destroy any chance for a future.
Cover by Rachel Conner
ISBN 978-1-4524-3567-1       Read an excerpt and buy the book