"C H A M E L E O N S"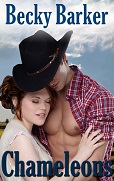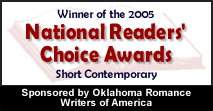 My story, CHAMELEONS, was a WINNER in the Oklahoma RWA's National Readers Choice Award contest for best short contemporary. It's a spin-off of A MATTER OF TRUST.
Ryan appears to be a man down on his luck. Erica appears to be a barmaid. Neither wants to divulge their true identity. They're Chameleons until their newly found love is tested by the truth. 
"These two stubborn individuals are very well-matched in energy, enthusiasm, sensuality, intelligence and wicked humor. The relationship evolving between them is so very hot and beautifully written by Ms. Barker…" ~  5 Hearts, Sensuality Rating: Very Sensual, Reviewer: Ellen, The Romance Studio.
5 Cupids – "Chameleons" is a superb read…I was especially impressed with the character's witty dialogue and how smart their relationship is…I cannot fully express how great this story is and how captivating Ryan and Erica are." ~ Cupids Library Review.
"You won't want to put the book down until they realize they were meant to be together!" ~ Romantic Times Magazine. Buy now at: Chameleons ISBN: 1-41995-548-9

"CADE'S CHALLENGE"
Many of my fans requested Cade's story. He's the gorgeous, protective younger brother of Trey Langden, the hero in my book ON WINGS OF LOVE. "Cade's Challenge" is available digitally at all online bookstores and in audio format.
When a dangerous stalker shakes her world, Sallie Archer allows Cade Langden a glimpse into her personal life. They've worked together for years in perfect harmony, but now he wants to alter their relationship from professional to intimate. She realizes no matter how much she wants to keep things strictly business, the chemistry between them is too strong. But can she trust him enough to reveal the secret she's kept from him so long?
"Cade's Challenge" is the epitome of the steamy romance novel. The chemistry between Cade and Sallie was combustible and their love scenes so hot, I swear I saw steam rise from the pages. The mystery is interesting and unpredictable, but the real story is the romance, and I enjoyed watching it unfold. It's an intriguing, romantic, and ultra sexy story, and I highly recommend it." ~ Debbie, Once Upon a Time Reviews.
"Cade's Challenge" is an incredible read… The sexual tension is so fiery my monitor was smoking… With so many twists and turns, I was kept guessing the identity of the stalker until the ending. Becky Barker did a marvelous job with this story. Of course, I don't believe I have ever read a bad story by this wonderful author."  Shayla, Romance Junkies Reviews.
"ON WINGS OF LOVE"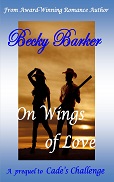 The only man photo-journalist Jillian Brandt could trust with her life was the man she'd loved and left. Now he was all that stood between her and the ruthless killers tracking her. Despite his bitterness at the way their affair had ended, Trey Langden offered her sanctuary and protection. Even though Jillian's life hung in the balance, she wondered how she'd ever left the man who stirred her blood so hotly…
"ON WINGS OF LOVE was an amazing book. Ms. Barker has an ability that I found almost unbelievable to see into the hearts and souls of her characters, which she conveys to her readers… Ms. Barker, I am eagerly awaiting CADE'S STORY!" ~ 5 Rating, Marcy, Coffee Time Romance.
"ON WINGS OF LOVE made me laugh, it made me cry, and it made me believe in the power and beauty of true love. Becky Barker is an extremely evocative writer … I can't say enough good things about this book, but let it suffice to say that it's because of books like this I love to read." ~ 5 Rating, Kerin, Two Lips Reviews.
This book is a reprint of my first Intimate Moments release, THE LAST REAL COWBOY. It's been revised, given a new cover and title. 
"HANCHART LAND"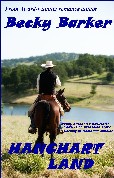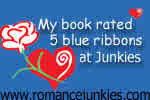 "Becky Barker's HANCHART LAND is an awesome story… The passionate desire between Luke and Susan has burned bright over the years… You just know they are perfect for each other." ~ Chrissy, Romance Junkies.
"Hanchart Land is a story that captivates from the beginning… Ms. Barker pens an incredible tale of betrayal, learning to trust, and the unveiling of secret loves. This one is a keeper." ~ Cherokee, Coffee Time Romance.
"I would heartily recommend this book as a keeper because it is a fantastic romance that allows you to escape to another world while leaving all your cares behind." ~ Sheryl, E-cataromance Reviews. 
This is another revised and lengthened reissue.
"A MATTER OF TRUST"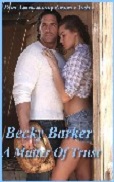 After twenty-two years of nearly virtuous existence, Katlyn Sanders shocked the entire community of Kingston by moving in with Jared King, the town's wealthiest bad boy. The real fireworks began when she left him and moved home again. Jared was determined to have her back on his terms. She had her own terms.
This story is a prequel to CHAMELEONS. There are limited print copies available with the old coverart at used book stores. The coverart here is for the latest digital version.
"This story is an exciting one about the chemistry between opposites. It's a very passionate tale beautifully written by Ms. Barker. I recommend it to everyone." ~ Ellen, The Romance Studio.
"Ms. Barker has penned a fabulous romance that will touch your heart. You fall in love with these characters as the story unfolds and you understand Katlyn and her desires – including the reasons for Jared's mistrust. As always, the road to romance is never smooth. Smoldering sex scenes are woven into this tale to complete the story. A definite keeper." ~ Coffee Time Romance.
Re-introducing the Prescott triplets!
I'd like to re-introduce Sharla, Darla and Carla Prescott. They're triplets who work as pilots for their family's air charter service. Sharla flies charters, Dee is a flight instructor and Carlie flies cargo. BORN TO FLY, LOGAN'S LADY, and LOVING CARLIE are now available individually at most online bookstores. All three stories are combined in the PRESCOTT PILOTS anthology which is available in digital and audio format:-)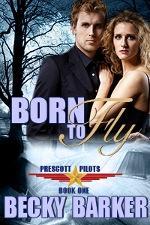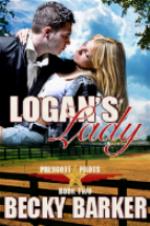 Book #1 – Sharla's Story
Book #2 – Darla's Story
Novella #3 – Loving Carlie
Anthology with all 3 stories.